Commencement
Commencement 2017
Date: Thursday, June 15, 2017
Ceremony: 2:00-4:00 pm
Location: Fess Parker's Doubletree Resort
633 East Cabrillo Boulevard, Santa Barbara
---
Tickets: Tickets are required for all guests. Due to space constraints, each graduate will be allotted a limited number of tickets to be determined based on the number of registered graduates. Tickets will be available for pick up in May 2017.
Regalia Orders: Order your cap and gown at college.jostens.com.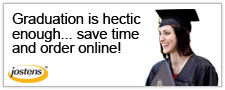 Commencement 2016: See a gallery of over 150 photos from last year's ceremony on the AUSB Facebook page.
Two, four, six, eight, who do you appreciate?
We are continuing our tradition of including a section in our Commencement Program written by our graduates. You did it! But you probably didn't do it alone. Here's your chance to acknowledge those who supported you on your educational journey. Your words will be included in our keepsake program for you to share with the friends and family who helped you reach this milestone.
The deadline for submission has passed.
Students interested in speaking at Commencement must submit their speeches by May 2017 (exact date to be announced). Speeches will be evaluated by a faculty panel blind to the identity of the author. Speeches should be no more than 750 words in length and focus on the following theme:
Antioch University's mission is to provide "…education to empower students with the knowledge and skills to lead meaningful lives and to advance social, economic, and environmental justice." How has this mission been manifested in your experience at Antioch University Santa Barbara?
Submission Process:
Speeches should be submitted via email to Commencement.AUSB@antioch.edu.
Include a cover letter with the subject line "2017 Graduation Speech"  including the title of your speech and your contact information.
Identifying information should be included ONLY in the cover letter. Speeches will be selected blind to the identity of the student authors. Cover letters linking the authors to the speeches will be kept separately so authors can be notified of the outcome of the selection process.
Selection Criteria:
The speeches will be reviewed by a faculty panel and evaluated on the following criteria:
Consistency with theme

Writing quality

Interest to and representative of a general student audience

Evidence of critical/analytical thinking
Timeline:
The timeline for speech submissions will be in May 2017. Dates will be announced when they are finalized.